Courchevel Helicopters

Hide Info

CLIENT TESTIMONIALS | STORIES | PHOTOS and VIDEOS
You are the most important aspect of our business
We want You to... Write Us a Testimonial | Send Us your Photos | Recommend Us to Others and Return to Us for More...
Your Enjoyment and Satisfaction are Paramount!
Our clients will tell you so much more about us than we can!...
We hope you enjoy our incredible collection of testimonials, stories, photos and videos all sent to us by our amazing clients as much as we do...

We look forward to receiving yours.
The video below was sent to us by one of our clients, Andrew F who booked a helicopter with us from Val Thorens back to the airport when a huge boulder rolled down the mountain and came to rest on the road blocking it in both directions.

Filmed on his iPhone... At only 1 minute 19 seconds long it's definitely worth a watch!

Please check out Andrew's testimonial straight after the video along with many others we've received from clients who have kindly taken some of their time to write and send one to us

| | |
| --- | --- |
| | |
| | |
| --- | --- |
| | |
| | |
| --- | --- |
| | |
In February 2015 I contacted Whitetracks Helicopters in regards to a last minute transfer out of Val Thorens to Geneva. There had been an incident on the road blocking all traffic going both ways meaning no one could get in or out on transfer day. Despite this making Richard an incredibly busy man with last minute requests coming in from all angles he remained very professional and responsive. I received a quote there and then and was able to process the entire booking on the day of the flight completely hassle free.

The instructions to where, when and which helicopter was ours were clear and everything couldn't have ran more smooth. The pilot was great and handled our bags and gave us a quick brief of the flight before take off.

Due to certain regulations we were unable to fly directly in to Geneva so we flew in to Annecy and there was a comfortable premium car waiting for us.

Ultimately, the whole experience was a joy and one I would invest in time and time again and plan on doing so.

Thanks,
Andrew F
Awesome experience with the support professional team, thanks a million times!

Anu from Singapore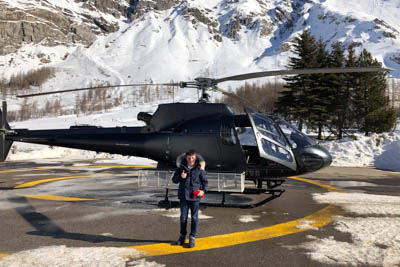 <
Absolutely Fantastic!!!
Thank you
Claire J
I was very happy with the service and would love to use you again!

All the best G
Gavin B
Flight was great, thanks for helping...
Blake C
Hi Richard, many thanks for the seamless helicopter transfer of our party from Chambery to Courchevel it was a great way to start our Ski trip and meant we were skiing within an hour, unbelievable! Very professional service, really cool Helicopters and excellent communication throughout the booking process and we really appreciated you taking the time to come and see us off, we will definitely use your service again

Regards
Matthew G
Whitetracks has taken us to Tignes for the last 3 years and it is a magical experience well organised and on time each time. We leave Geneva airport and are in Tignes 1 hour and 15 minutes later, what could be better. This year we are going to Verbier and once again will use Whitetracks.
Antony and Claire
We used Richard and Whitetracks for a heli-transfer from Geneva to Zermatt. Richard was polite, helpful and knowledgeable and I found the entire experience easy and enjoyable from the booking to the flight and transfers. The journey was smooth and pleasant and the views were beautiful. I would highly recommend the company and would definitely use them again.
Laura McI
We were searching for a helicopter service that could help our company to record some scenes for a promotion video. Luckily, we came across Whitetracks Helicopters. From the start they were really easy to communicate with, and also very flexible. When we arrive to their base in northern Italy, we got a very warm welcoming and they made us all feel secure. After that they took us to a beautiful location in the Alps. We couldn't have asked for a better experience and I would happily recommend Whitetracks to anyone looking for a helicopter service in the Alps.
Erik B - Clothing Label
Hi Richard,

You helped organise a trip from les deux Alpes to Alpe d'huez a few weeks ago and I said I would send you photos - sorry it's taken me so long; my phone has been struggling to upload them.

Thanks again for organising everything for us - it was a great trip and we really enjoyed the journey; it was a great way to see the alps!

Best wishes,
Emma B
We had a real luck today to have a Mont Blanc tour. After several days of heavy snow falls all the mountains were covered with the snow. And the weather was just unbelievable: sunny and almost without wind. We've seen the places where we were about 10 years ago when climbed the summit. Unbelievable! So much pleasure! Thank you again for that amazing tour! Thanks a lot, to the pilot for his professionality and explanations during the flight.
Darina, Eugenia and Roman
P.S. I've sent you the invitation to the album in Google Photos. You can use the photos as you wish.
Thoroughly enjoyed our return trip to Alpe d'Huez. Well organised and safe. Great view of both resorts and the valley between. Another tick on our bucket list.
George B
We took a car from Geneva airport to La Clusaz which was not the best decision considering I am not good with bendy roads. It was decided that on our return we would book Whitetracks helicopter to avoid the roads. My sister had used this company around a week before and on her recommendation, we contacted them. Our first point of contact was Richard who was super-efficient, and all was booked within the day. We were given the location of meeting which we assumed would be a helipad only to realise the helicopter would arrive on the side of the cliff by the road, amazing amazing. We have both been on a number of helicopters in all different destinations, but this has by far beaten any other helicopter ride we have experienced. The beautiful scenery blew us away, the helicopter was in good condition and we were overall so pleased with the great service from start to finish.
Hannah R
I would highly recommend Whitetracks Helicopters to anyone wishing to book a flight either for transfer or a pleasure flight

From booking I was kept informed all the way along and the instructions were very clear. The pilot was really knowledge of the area we flew round and also knew it was a gift for our 40th Wedding Anniversary.

Looking forward to flying with them again.
Jane N
I hope you are well and just wanted again to say thanks for making an amazing experience.
Chris V
Many many thanks for sorting Chris out this afternoon... the kids had such a fabulous end to a really good day and I'm certain it's something they will remember for ever - which is just what was required!

Great service and we will send you imagery from the afternoon.

Thanks again and here's looking to the next time!
John V
| | | |
| --- | --- | --- |
| | | |
Dear Mr. Richard,

On behalf of myself and the Family where I work as an assistant, I would like to extend our thanks to you and your company for your excellent work on the organization of flights by helicopter. When choosing a company, it was very important for me to be able to book a helicopter flight at a convenient time for the Family. And only your company could provide it to us at a very busy period in the beginning of January.

The second important point was that I was also pleasantly surprised that your company took to organize the same sending of our Luggage by car freeing us from many worries.

At the end of our Holidays I would like to say that everything was organized on time and at a very high level. And of course the helicopter flights was very interesting, comfortable and pleasant. Thank you once again that you helped to organize our holidays and get so many impressions! I am very satisfied that i have made an excellent choice in selecting your company. I hope that this is a beginning of our long and successful association.

Kindly regards
Maksim K
Hi Richard

Attached a few photos. (I'm the old codger in the middle!). The tall one with sunglasses is our youngest son, Billy.

The trip there and back was flawless - Thank you.

My only criticism - and this may be borne out of me being a copter pilot - is the poor quality and age of the headsets. On the return trip, we couldn't get one set to work, so my wife volunteered to sit in silence (not easy for a girl!).

It's only a detail, but there lies the devil!

Another great experience - Thanks
Malcolm S
Was a great trip thanks. Seamless organisation!
John McC
Richard, just to say the whole flight experience was wonderful. Your guys were great and the flight itself was truly memorable. Thanks again!
Marcus B
"WHAT A FANTASTIC EXPERIENCE!"
From the minute I made the booking enquiry with Whitetracks Helicopters I was confident we would have a great experience. Myself and 5 friends booked a helicopter transfer to Val D'Isere from a private helicopter pad close to Geneva Airport. The booking process was simple and there was regular contact from the company prior to our flight. Even with the threat of bad weather in Geneva, Whitetracks had a plan B! Fortunately, the weather was on our side and from the minute we were met at Geneva Airport we felt very special. After a short journey we arrived at the Helipad and within a few minutes we were off to Val d'Isere. What a fantastic experience that 30 minutes was!! Flying over the snow covered French Alps. The pilot was very informative, pointing out highlights along the way. I have been on a helicopter many times, but I can honestly say that this was my favourite helicopter ride by far. It was quick and we were skiing a short time after we arrived, while everyone else drove up the winding road! On behalf of myself and my friends we cannot recommend Whitetracks Helicopters enough. We will definitely use them again. Thank you, Richard and the Whitetracks Team,!!!
Nicola S
Hi. Thanks, it was a perfect ending for the holiday. First time for the kids, and first time heli-tour in the Alps for me and my wife. Super wyes with sun starting to get down. Thanks for smooth organizing.
Matias L
We had a great experience with Whitetracks Helicopters from the short luxury private transfer from Geneva airport to the helicopter and the flight from there to Gstaad. The journey with our pilot David was first class. We would highly recommend Whitetracks Helicopters services.
Moni W
I am so grateful for the day you guys made so special for me. I can't stop looking at my photos. What special memories.

Thank you again so much Whitetracks for helping me create a special Birthday I will never forget. The smiles you put on our faces were priceless and the views in the air, incredible! Fantastic communication and flawless service throughout I couldn't be more grateful."

Here's a few photos too.

I hope my friends contact you that were interested in a flight.

Thanks again for everything Richard, really made my Birthday. I will be in contact again in the future!
Oli P
Whitetracks really took care of everything I required. Having just arrived in the South of France from Ireland, I hopped on the TGV to Lyon to photograph the new football stadium for a UK construction client. Richard provided an exceptional service enabling me to get the aerial shots I needed. He understood the brief and, as with most aerial photoshoots involving helicopters, it was important to remove the doors to have no obstructions while shooting. This wasn't a problem. Richard understood the brief and worked with me to make the photography seamless. I would have no qualms recommending Richard and Whitetracks and can't wait to work with him again. He is a real pro.
Phil S
All I can say is, I've had this company to take care of my helicopter and ground travels in the regions of Switzerland and France for several years in a row now. I've always stayed alive and am still continuing to use Whitetracks for my travels and safety.

Best regards,
Ronnie K
Thank you very much for your help with the Jasper L booking this season. Our guests really enjoyed the fantastic start to their stay, and thanks for your efforts in making it happen, with the weather on the day.

I look forward to hopefully sending more business your way next season!

Kind regards,
Roz W - Sales & Concierge Team
Our ski party arrived in Chambery and we were taken to the helicopter. The weather was great and we had a wonderful trip to Val Thorens . On our return the weather was closing in and we were unsure if it was possible for the helicopter to fly. We took the risk and at 7 am we were standing on the helipad. The silence was deafening, and the wind was getting stronger. In the distance we could hear our helicopter arriving. What a relief! The pilot was marvellous and explained that although the weather was bad, we were safe and he put us all at ease. We had an amazing flight back through the valley and the pilot gave a fantastic guided tour. The helicopter transfer made our trip memorable and for our teenage children it was a surprise and they were thrilled.
Liz H
| | | |
| --- | --- | --- |
| | | |
I've had a few rides with you and they are always fun, but of couple of brilliant trips stand out..

On a beautiful boxing day morning my wife Samantha and I skiied from where we were staying in St Martin de Belleville right over to Courchevel 1850 to meet friends at the CapHorn Restaurant for lunch. The kids being small, accompanied by the au-pair and our little dog were despatched by road to meet us. Over a fabulous lunch, one bottle led to a magnum and before we knew it we were faced with a tough decision - leave the wine on the table and ski hard now to catch the last lift out of Courchevel to get us back to St Martin, or face a gruelling 90min taxi by road with the kids... in the event we did neither... A call was made to Richard at Whitetracks, and before our glasses were empty, we were told that our helicopter was waiting.!

Ski's, kids, au-pair and dog were loaded and we were whisked off for an exhilarating 12 minute ride across the 3Vallees to be deposited on the slope above our hotel in St Martin. Fabulous end to a perfect day. Thank you Richard you really came up trumps..!

And the other

Having skiied down into St Martin De Bellville with friends for a generous lunch at La Bouitte, it was inevitable that we would struggle to make the last lift back into Courchevel 1850 where we were staying. Only one thing to do... Call Richard at Whitetracks to rescue us. My friends were amazed at how reasonable something so extravagant could be. An hour later the helicopter landed right outside the restaurant and 10 minutes after that we were buzzing the CapHorn Restaurant before landing behind it Courchevel Altiport..!

If you want to use them, I'm more than happy for you to do so.

Hope to be using you again soon.

Kind regards
Adam B
We had an amazing experience being chartered with the private helicopter. The trip to Geneva from Val Thorens was absolute breeze compared to driving. The flight was filled with beautiful views of the country side that you won't experience any other way. The experience is well worth the extra money. We will definitely be doing it again.
Richard and the team were extremely helpful with arrangements and assisting us on short notice when we moved our transfer.
Devon Marais
EMAIL:

First, I want to thank you for the organization of the heli flights. They were right on time, the pilots were very nice, the route and view was beautiful and of course the weather was perfect.

The guests are still enjoying!

TEXT:

Hi Richard, it was amazing, good pilots, view was beautiful, perfect weather. Everything perfect!! Thank you!
Sander - BMW Event
Having been invited to St Martin to stay with friends we decided to treat ourselves to a helicopter transfer from Chambery airport. I made many enquiries along the way and became quite despondent with the efficiency of some of the companies.

I finally reached out to Richard from Whitetracks and from that moment forward the entire experience was highly efficient emails, texts where responded to in minutes and the whole experience was effortless from beginning to end.

Whitetracks are the company to use in my opinion they care about their cliental and are even available in the small hours to discuss weather issues and alternative methods of travel they compensate very well in all areas and give their cliental a genuine, straight forward efficient service.

My friends and I are now clients for life, Richard many thanks indeed for all your efforts during our trip.
Steve H
It was an amazing experience and a real highlight of the trip.
Mark DC
Flipping awesome

Thanks so much for organizing
Donavan B
Thanks again it was incred!
Emma D
It was perfect Richard! We all enjoyed the flight.

Thank you for your good services.

I surely will contact you again if we need any helikopter flights in the future!
Elke S
Hi Richard, first class thank you I will use you in future for sure so remember me when you need some shooting stuff mate and I will look after you regards
Andy W
Richard and the team at Whitetracks were a pleasure to deal with. Nothing was too much trouble and the booking process was smooth and straightforward. The whole experience from arranging the flight to landing in Les Arcs was fantastic, the Pilot was great and kept us on the lookout for sights we were flying over, which is an added bonus for a transfer flight!

We've already booked another trip with Richard and I'm sure there will be many more to come when we are back in the mountains again.
Chris P
Dear Richard,

I want to thank you and your team for the wonderful excursion you took us on over the Alps in Verbier, Switzerland. This was a birthday surprise for my fiance and it exceeded both of our expectations by a large margin. The natural beauty of the region is unparalleled, and your knowledge of the area and your informative commentary was great. You were on time and did an excellent job of making us feel safe in the machine. I would highly recommend Whitetracks helicopters for your next excursion in the area. See some photos of our trip!

Sincerely,
Dave S
The experience we had with you was very positive and professional. We were very happy to be reunited thanks to your helicopter.

Cheers
Dave McN
I have used Richard and Whitetracks helicopters a few times now and their service levels and contact ability have been absolutely amazing even when the weather is unforgiving, and decisions have to be made at the last minute. I would recommend Whitetracks to anyone without reservation.

Thanks again for everything this year. See some photos attached, though not sure they add much to your collection to be honest!
David W
Thank you so much for your arrangement. Our guests depart from Alpe d'Huez to Courchevel were very happy.
Effie S
We booked some helicopters from your company and had good relationship with you during last Tomorrowland winter. Now, Tomorrowland 2020 winter is coming, we still hope to order helicopters from you.
Winnie
Many thanks everything went brilliantly

Kind regards
Lois H
Flight was great - Thanks for organizing!
Greg D
We flew from La Plagne to Geneve with Whitetracks Helicopters and it was an amazing experience. Organization wise, Whitetracks has been very professional and flexible: they picked us up very close by our ski holiday location and right on time for our connecting flight in Geneve airport. They also arranged a driver between the aerodrome and the airport. The helicopter pilot was very friendly and gave us indications about the regions we flew over. I will definitely call Whitetracks again if I need another helicopter transfer.
Amelie N
The flight was awesome, we all thoroughly enjoyed it, both pilots were incredibly smooth and views were beyond our wildest expectations, many thanks for all of your organisational skills the whole trip went without a hitch.
Kevin M
Thank you for arranging such smooth transfers for us, everything was so well organised and communicated and the extra personal touch made all the difference.
Matt G
Thanks Richard
Peter F
Many thanks for all your help. I'll learn not to trust the hotels in future!
Rob B
It was absolutely amazing, the weather perfect for it too, not a cloud in the sky so the views were spectacular. Everyone thoroughly enjoyed it, a few initial nerves for those who hadn't flown before but those soon dissipated.

We all had a great experience, thanks again!
Sarah M
Flight was great - wonderful trip over the Alps.

Thank you
Stuart L
My family and I are relatively new to the skiing scene, but we've fallen for it in a big way. The only downsides to skiing holidays from our point of view is the transfers by road, with two children it becomes a real headache, and along with collecting ski equipment for the four of us it takes us 24 hours usually to recover from the journey if we go by road. It sounds extravagant taking a helicopter transfer, but to us, QUALITY family time is what skiing holidays are all about. Whitetracks service enables us to get to the resort fresh beating the equipment collection queues and the same time the transfer becomes something we look forward to rather than dread. Whitetracks even managed to get us a last minute helicopter when our coach transfer was delayed by 4 hours. Excellent service, professional pilots. Well maintained helicopters. We would highly recommend them.
NB, VB, JB and RB
We needed a quick and Last-minute transfer to collect us from a long international flight in Nice and get to Courchevel on Christmas Eve. I am a very nervous Flyer, Richard was incredibly reassuring. The trip over was so amazing and beautiful and everything ran like clockwork. I was very impressed with Richards professionalism and yet personal touches as well as our pilots. We were so well looked after that we booked the return trip immediately. Certainly, beats driving.
Leonie S
| | | |
| --- | --- | --- |
| | | |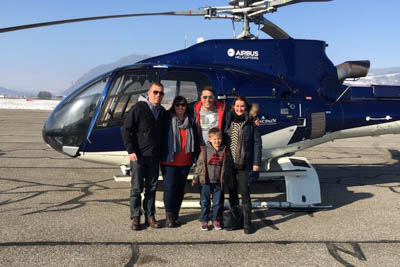 My friend and I decided to surprise our partners (and her son) with a helicopter transfer on our recent ski trip to Val Thorens. I contacted Richard at Whitetracks and he was extremely helpful in explaining to us what we would need and how the whole experience would work. After all, its not every day you book a helicopter!!

What I liked about Whitetracks is they answered all our questions and helped us with all the details (such as what luggage to take etc) and they also made sure we were covered for a road transfer should the weather work against us.

Fortunately for us on the day, everything went to plan. Richard at Whitetracks was an absolute star in helping us keep the secret right up until we arrived at the airfield and the boys were completely surprised!! The driver of the transfer vehicle from Geneva to Annecy Airport was even in on the secret!!

The flight from Annecy to Val Thorens was absolutely amazing and such a fantastic experience. I would highly recommend Whitetracks, their customer service was excellent and all the help from Richard both in advance and on the day made the whole experience really special. We will definitely repeat it one day!

Thanks Richard and all at Whitetracks.
Christina P
Whitetracks Helicopters were an ideal partner, very easy and quick communication, the service perfect and the flight of course as smooth as it can be. Great fun fort he kids as well!
We are looking already forward to fly with you as soon as possible -
Best regards
Ralf
The best way to get to resort quickly and efficiently, let alone the amazing views. Richard at whitetracks will take care of all of your needs to make it an effortless process and a memorable experience. Just booking up this seasons trips!
Andrew S
I have booked Whitetracks on a number of occasions but I've only flown on 3. This is significant because the strength of the pilot who has a pressure to fly a number of hours per week so that they can pay down the debt, has been such that where conditions were unsafe, regardless of any financial pressure, they have always erred on the side of caution. This may cause a little inconvenience as you may not get the flight every time you book but it provides you with 100% safety that when you do, you reach your destination and can enjoy the rest of your trip. I would use them again and would recommend highly.

Kind regards,
Graham R
Nothing gets our skiing holiday off to a better start than a helicopter transfer into Meribel. Excellent service from Whitetracks.
Chris C
We called Whitetracks from Chamonix when we decided we wanted to go to Courchevel and ski for the day. With only a days notice, they were able to arrange a helicopter for us with no trouble at all. We were given options for a pick up location which were mindful of cost and convenience to us which we also really appreciated. The trip was spectacular, views amazing and everything (including the return journey) ran like clockwork. What we particularly love about Whitetracks is the ease of communication and the easy of booking. Thanks again and looking forward to our next trip!
Nurette S
Thanks to Richard and the team at Whitetracks Helicopters for such a professional service. A truly exhilarating experience which we intend to repeat every time we come to the Alps. Not only did it save us valuable time but it made the trip very special indeed. Thanks Richard!

Regards
Matthew S
Hi Richard,

I just wanted to say what a fantastic experience it was travelling in your helicopter.

After a gruelling 6 hour coach trip (should have taken 2 1/2 hrs) stuck in half term traffic from the airport to our resort in Les Arcs we really didn't relish the thought of the same journey on the way back.

We decided it would be a lovely way to end our holiday to fly back to the airport. We had never flown in a helicopter before but your company made it easy for us to organise and the cost was very reasonable. The pilot on the day was very nice, and made us feel very relaxed about the experience.

The views were amazing and the whole experience was one we will remember.
We would definitely recommend using Whitetracks!
Debra B
We have used the services of Whitetracks on several occasions as a means of gaining speedy access to the slopes. At all times we have been very impressed with the service received and the way in which you have been able to overcome the difficulties that can occur due to sudden changes in weather.

Travelling in style straight to resort rather than enduring a 'never ending' road trip by car or coach from the airport is invaluable. It is also a thrilling and memorable way to commence a ski trip.

We will be using Whitetracks on our next snow adventure

Kind regards
David M
We have had the pleasure to fly from Geneva to the alps at two occasions with Whitetracks Helicopters.

A quick and good alternative to save time and also to get to see the amazing landscape.

The service that Whitetracks provides is an all-inclusive service with transportation from airport to the pick-up location and also transportation to the hotel.

Even though we had some problems with fitting the luggage in to the helicopters Whitetracks solved it excellent by providing a separate transportation for the luggage.

We will definitely use Whitetracks in the future and are now planning for the next trip to the Alps with Whitetracks transportation of course

Best Regards
Wojciech W - Stockholm, Sweden
Richard and the team at whitetracks really set the bar for a quick easy safe ride back to the airport. 3hrs became 20minutes. No fuss from the moment we left our hotel in the whitrracks customer transport to helipad to landing in Geneva. We were in the air and on our way within 10 mins of leaving the hotel. Easy transport with easy people.

Would recommend whitetracks every time.
Paddy E
Richard and all the Whitetracks team always offer A1 service. Courtesy and efficiency go hand in hand, I have used for personal and corporate work and would recommend them to everyone. The only thing that sometimes lets them down is the weather! Highly highly recommended
Michael S
The whole process was really easy - would recommend Whitetracks to anyone
Stephen W
Thanks again Richard. Brilliant day. Kids had a ball!
Nurette S
Over the years I've used numerous charter companies hopping across the French/Swiss Alps to ski in various resorts, the service whitetracks provides is second to none! They keep you fully informed and consider back up plans when the weather turns against you. They make travelling A to B as seamless as possible and have the relationships and contacts to ensure a VIP service. Highly recommended!!
N McK Manchester UK
Hi Richard, just wanted to say thanks very much! Excellent service from everyone we encountered, the pilot was a gentleman and the flight was awesome! Couldn't have picked a better day! Have a great weekend!! Kind regards
Greg M
Richard we had a fabulous time taking the helicopter. Here's a picture of us all just before we go on board! Can we possibly book the return. I know it's short notice but I can get the euros to you in the next couple of days! Thank you very much.
Shona W
The helicopter trip was from one valley to another, a road trip of over 6 hours, booking a helicopter with Whitetracks was a 21st birthday present and cut out all the hassle of swopping buses, hanging around to fit in with timetables and lugging suitcases from one place to another. It was also a reasonable cost when compared to 2 different taxi companies on a weekend at the beginning of January. Before the trip I had been emailed all details, everything was very clear and straightforward. Richard turned up promptly at the designated location and within 40 minutes we were back on firm ground and I was back on the slopes with my mates. Great result and all hassle free. Would definitely recommend Richard.
Nick F
I have used 'Whitetracks' on two occasions from Tignes, France. The first trip was Christmas 2016 and then again in March 2017 - on both trips, the experience was a special treat for some special people!

Both trips were outstandingly good and the flying time exceeded what we paid for. It made such a difference seeing the resort from the air and being able to pinpoint runs that we had skied was very special. This is not a cheap option, but it is such an adventure and makes a special holiday so much more memorable. Worth every penny! The pilots were well informed, chatted, and pointed out areas of interest. Just do it!!
James C
We called Richard at Whitetracks at very short notice for a return day trip from St Tropez to Monaco for the boat show. Within 20 minutes we had a confirmed booking and arranged collection from our villa. A smartly smart new Mercedes Viano picked us up and a short ride into the hills of Ramatuelle, where the helicopter landed within 5 minutes and half an hour later we were at the show. We've chartered a few helicopters with varying success before but have absolutely no hesitation in recommending Whitetracks and in particular Richards fast turnaround and seamless organisation...
Simon T
Hi Richard

I just wanted to thank you for organising two superb transfers.

Kind regards
Malcolm S
| | | |
| --- | --- | --- |
| | | |
Dear Richard,

I just wanted to drop you an e mail to thank you so very much for the helicopter trip that you rearranged for us on the 8th of March in Courcheval to see the 3 valleys. What an amazing experience that was. I have been lucky enough in my time to have flown over New York and dance between the pitons in St Lucia. Nothing could compare to the trip l took with your fantastic pilot and on your particular helicopter. When we arrived l thought it belonged to some very wealthy Russian gentleman. It was pristine, and l believe a bell helicopter. We all felt like film stars. Thank you so very much for changing the day as we had brilliant weather. It was something l will never forget for as long as l live, particularly as we had had so much snow this year. I have never seen the 3 valleys look more beautiful than it did on that day.

Thank you for all your kindness and professionalism. l hope one day to use your amazing company again. I have already passed your details on to some of my patients and friends.

Warmest wishes and a happy Easter
Catherine C
Dear Richard,

Thanks again for being so amazingly efficient throughout our trip and always letting me know what was going on. It was a shame we couldn't make the return flight, but the cars were all good thanks. Presumably you will credit me the difference in cost?

All the best,
Dave W
We first used Whitetracks for a winter flight and were provided with such an excellent service we also used them to organise a summer flight sightseeing in Switzerland. Richard and the team really understand what first class customer service is.
Michael W
Tour de France 2017
Thanks Richard for arranging our flight at such short notice, at such a difficult time. The helicopter arrived exactly on time at Alpe DHuez altiport and dropped as 6km from the top of the Galibier, where we had simply amazing views of the riders as they prepared themselves for the final, steeper drag up to the col. The helicopter stayed with us for the 40 minutes of riders coming through, and then took us back over the col, to enjoy some of the action, before getting us back to the altiport. We then drove 10 mins back to the hotel, and saw the descent on TV - now that's how to see a stage of the TdF. Thank you for your part in making it happen.
Simon and Poppy H
Hi Richard,
I just wanted to say thank you for a fantastic service.
What a great way to start an exciting ski holiday - with an exciting helicopter ride.
The scenery was amazing and seeing the other ski resorts on route really brings together an understanding of the Alps.
Flying through this changing terrain was exhilarating to Say the least. The pilot flew us over the Mountains with skilful confidence while keeping us comfortable
He was certainly pleasant chap answering all my questions on route.
The customer service was keen and efficient, I'd Certainly ride again in the future. Thanks very much!!
Greg M
Hi Richard
Great trip fantastic service I can't thank you enough please let me know if your on Whattsapp and I will send you some photos and videos
Regards
Andy W
Richard,
Thank you so much for the service today!
Everything was last minute but you guys pulled it off.
Looking forward to the next booking.
Joost V
Hi Richard,
Thanks for this. They do spend time in the South of France, so I will give you a call or email should they need a transfer.
I just must say, a massive thank you for handling this so quickly, efficiently and professionally. I look after a few high net worth individuals / families and to be able to say I need a helicopter in 6 hours and have everything done and confirmed in 20 minutes is amazing. Some 'luxury' concierge services can't do it that quickly for me. As you can tell I get a lot of request that are fast, or difficult. You came to the party and I'm mightily impressed. I will be giving Whitetracks details out for any transfers or flights that are needed.
Thanks again and hopefully we work together again soon,
James W-J
Fantastic experience Richard.
Many thanks for all your work to make that perfect
Stuart R
Hi Richard
Great trip this morning - Sebastien was very friendly and informative. We had two deaf guys with us - first skiiing trip and first time in helicopter. They were thrilled.
Thanks again.
James C
Hi Richard, just wanted to say thanks very much! Excellent service from everyone we encountered, the pilot was a gentleman and the flight was awesome! Couldn't have picked a better day! Have a great weekend!!
Kind regards
Greg
Hi Richard
Just wanted to say the flight was terrific - many thanks.
Dr Tessa H
Totally AMAZING!!! Had to wait anyway due to rescue flights so we got to see it in action too. My wife sat in front and thought it was great and my son loved it too. Staff were really friendly (please pass on our compliments) and made the whole experience the highlight of our holiday.
Mark S
| | | |
| --- | --- | --- |
| | | |
| | |
| --- | --- |
| | |
Richard

Was conveying to our friends who were with us when you took us from Zermatt that we were using you again at Christmas. He reminded me that he had written some words on their experience so thought I would share them with you and a picture.

He's a bit of a bill bryson...

Graeme D

We arrived at a non-descript set of buildings several hundred yards along from the train station we had been expecting to be using to just a few hours earlier. That was before we received the text we had been hoping for: 'Weather conditions are good - we will be flying today'.

Knowing you will be taking a helicopter back down from the ski resort changes everything about transfer day - usually all the adrenalin filled excitement of your winter holiday is behind you; all that's left is dragging your kit around between points of transportation interspersed with the consumption of junk food your body really doesn't need but would have burnt off rapidly whilst up the mountain, only now just sits in your belly serving only as a means to pass time and fleetingly lift your mood. This day was different, the small playmobil sized taxi so ubiquitous around the streets of Zermatt was now in a lift and although the driver was trying to remain nonchalant about the whole thing, it was clear to me that he had never been on the roof top occupied by lots of helicopters before - he was almost as excited as we were!. 'Ping' the lift arrived at roof level and out we drove onto the wide expanse of smooth concrete - mountains, blue sky and two bright red helicopters.. The only noise though was from a dog barking way down at street level and there was nobody about, adding some mystery to the experience. A few minutes later we were greeted by a chap in flight overalls who told us everything was on schedule and our pilot Mathias would be along shortly.. By this time the three children in our group were beyond excited and spent the next 15 minutes taking photographs - 'no social media kids we don't want people to think we are showing off' this is an interesting dimension - one of the coolest things you could hope to do, but we don't want to share it for fear of it coming off flash.. but then you realise it's all about the experience and sharing doesn't add - you really need to be there! Ok now we are in the helicopter and the engines are running - headphones on and the reassuring voice of the pilot doing his final flight checks.. Just before we can take off another helicopter has to land - these people don't look quite as happy as us.. They probably didn't enjoy the flight either - there's one guy with a big bandage on his head and a lady who needs to be lifted into a wheelchair with what looks a lot like a broken leg, a reminder that there is a serious purpose for these amazing machines to fulfil here. Up we go: two choppers (can I say that?) in convoy.. People and roads rapidly looking small but unmistakably many of the skiers we fly over look up to watch us go by.. The flight was smooth all the way to Zurich with the single exception of the rollercoaster moment when we flew over the last mountain ridge before moving toward the lakes and cities and more awesome views, not at all scary but certainly memorable! The day was so clear the pilot was able to point out numerous landmarks and points of interest and was happy to do it, even though this was in effect his daily commute. We land at the fringes of Zurich airport, there are dozens of people peering through the wire perimeter fence to see who is getting out - the two blondes in the party had their sunglasses on and I'm pretty sure I saw lip gloss added - well why not we had just been given the first class treatment and felt privileged by the experience..
| | | |
| --- | --- | --- |
| | | |
Hi, I used your service last year and enjoyed it very much. I was wondering how late in the day you can do a transfer from Geneva to Courchevel? (weather permitting obviously.) And what is the each way cost for 2 people?
Thanks and regards,
Gary C
Hi Richard
Thank you for your help everyone had an amazing time in the helicopters.
Thanks
Vanessa P
Hello Richard,
I just wanted to write to say thank you for arranging the helicopter that successfully transported our American colleagues to Sion yesterday. I think they really loved the ride - in fact they sent me photos!
It was short notice, and touch and go, but you made it happen. So thank you very much.
If there are any difficulties with the payment once you get back to England, just call to let me know.
With kind regards
Kirsten A - PA
Good evening, Richard!
Just want to thank you for a well orginized heli ride which was amazing! Perfect weather conditions with beautiful nature and wild mountains! Very comfortable trip and unforgetable! Hope we are just as lucky on the way back ;-) this was a life time experience!
Best regards
From the norwegians
Hege
Richard
The drivers you provided as an alternative to take us from Val D'Isere to Milan were very nice and did a good job, it was unfortunate we did not fly as the weather on the Italian side was beautiful clear blue skies, maybe next time we will get to fly with one of your helicopters.
Thank you, Regards
Craig H
Dear Richard,
Mr. D. and his friends have successfully come back from the holidays. Thank you very much for your assistance in organizing their trip.
He is sure to resort to your services next time.
Sincerely,
Olga
Richard - thanks again. The ride home was perfect. We probably will not need it, but out of curiosity do you have operators in Chamonix? I will be back in two weeks and would obviously keep you in mind.
Ben P
Dear Ricard,
We are back home and we have a very good time with the helicopter back to the airport and we made it just in time for the next flight.
Thanks a lot for all and we will book at your office next time.
Best regards,
Erik L
Richard
Am now back in uk and would just like to thank you for the arrangements on 22/12. Transfer from Geneva worked very well and will be in contact ref next trip.
Happy new year
Regards
Graham H
Thanks Richard. First class service! You have probably bought yourself a repeat customer :)
Brad P
Thank you Richard. Excellent ride in the chopper.

Thanks again.
Andrew C
Hi Richard!

We are so happy that you could help us and that they arrived in time!!

Best regards
Mariella A
All went like clockwork.

I'm not sure we will ever be transferring by road again!!
Chris C
Thanks Richard

Both trips were superb and well arranged

I went with a group of 16 and next year it appears we will all be using your services

Regards
Robert
Hey Richard,

Thank you so much for your help!

They had a fantastic time! I will definitely be using you again!

Thanks,
Kat R - Lifestyle Manager
Thank you very much.

We will definitely use you guys again at some point. We plan to go closer to summer next year therefore we would hope the weather is better.

Speak to you then and thank you for all your help.
Jordan W
Where to begin?
Firstly, apologies for the delay in sending this missive which is so undeserved as we had a wonderful trip. It is difficult to express my thanks to you and your team. The flights served to thrill and gel our group for the stay beginning a truly memorable time in Val d. Only one injury, and that not serious, involving a novice skier and a parasol!
More apologies if I fail to mention everyone but my thanks and that of the family go to you, the airport team, Bruno (the luggage man) and, of course, the exasperated pilots.
Please advise me on ways to express our gratitude. If I had been more organised, I would have had cash for Bruno and there must be some arrangement for you. Let us liaise.
All good wishes for 2016.
Kay G
Richard

Thank you for organizing the trip. All went flawlessly. Happy holidays!
Vitally S
Hi Richard

Thanks for your help - we had a fantastic trip on Saturday. My fiancee (a professional videographer & photographer) filmed the above on his phone with limited prep - if you ever need any help with any promotional materials please give us a shout as he may be able to help.

On a separate point - could you give me a quote for a helicopter transfer from LDA to Geneva airport?

Many thanks and all the best for the holiday season
Vicky C
Hi Richard

Apologies for the late email but I just wanted to say thank you for all your help and assistance with our Helicopter Transfer to Val D'Isere. It was a wonderful flight through the alps and so quick. Will definitely do it again!! Thanks again. Happy Christmas
Nicola S
Richard organised a fantastic inter resort Helicopter Trip between Tignes & Les Gets rather than having to make a 3+ hour transfer by road.

I travelled with my wife, 2 children and crucial to the trip, 4 suit cases which Richard was able to facilitate.

On the day of the flight I was kept informed of the weather conditions and when the Helicopter was due to land at the Helipad which was reassuring.

The Pilot was very attentive to the children letting them sit in the 2 front passenger seats and pointing out areas of interest.

The 30 minute flight was over beautiful scenery including flying over Mont Blanc and was an experience we found exhilarating and one we will never forget.

We had not flown in a Helicopter before and I found Whitetracks easy to deal with, returning my email questions promptly, very accommodating and are good value.

I would have no hesitation in using Whitetracks again.
Paul M
Whitetracks provided an excellent 1 way transfer from Geneva to Val D'Isere in January, 2015. There is a number of options on offer and we chose Option 1 which meant flying from a Private Helicopter Base - a short drive from Geneva airport. Whitetracks were professional, efficient, fast and more importantly safe. Simply an amazing experience. From landing @ Geneva to hotel door was about an hour. Beats the road any day!! Very, very cool!
James A F
Our family of four used Whitetracks in December 2014 to transport us from Geneva airport to Val d'Isere ski resort. Service was extremely professional from booking until the end. Richard answered all of our queries promptly and completely. A courteous driver met us at Geneva airport and delivered us to the heliport where we took a scenic helicopter ride through the mountains to the resort. The helicopter ride added a wonderful dimension to our trip and it was so nice to get to the resort quickly after an overnight plane flight. Whitetracks also arranged private car transport from the resort back to Geneva airport on our departure. This was made more complicated as on the day of departure the mountain roads were closed due to heavy snow and accidents blocking the way. I was able to keep contact with Richard and the driver throughout the day and we made it back to Geneva the next day when the roads reopened.

Great service from a great company!
David and Mia H
Whitetracks made our trip to Courchevel from Geneva extremely enjoyable. Excellent service and some amazing views.

Highly recommend them
Mark W
Departing Copenhagen Airport with the SAS morning flight to standing in the reception at Hotel Le Blizzard in Valdisere in less than three hours and can ski the same day amazing!!! Always really good service at Whitetrack Helicopters!!!! Thanks!!!!
Kenneth H
I used Whiteracks Helicopters, for what was supposed to be a one off treat, I've subsequently used them again, and am already planning to do so again in March.

Its' a great service and Richard is a really friendly guy, and was very accommodating with my requests,

I really would recommend everyone to do this at least once, a fantastic experience!
Andrew D
Whitetracks took care of my aviation needs for an important trip to Courchevel. The pilots were extremely professional, courteous, and kind - ensuring our safety and a good time. On the ground, they were extremely responsive to my needs, monitoring flight times and weather conditions, keeping my mind at ease. I plan to use them the next time I am travelling in the region.
William
We booked a whitetracks helicopter to transport us from Monaco where we live to Val D'Isere. We went with the quote originally as it seemed the most reasonable for the transfer. We were collected on time from our residence and transported in a clean and well maintained Mercedes with our 2 young children.

Our flight to Val D'isere was spectacular and the pilot was very well trained and flew us safely and in good time.

We were scheduled to take a return flight also but the weather was bas and we were advised not to do so. Whitetracks organized a nice Vito van again to take us back and we were extremely happy with the service.
Benjamin and Lisa S
I first used Whitetracks early in 2015 and was instantly impressed by the personal service and efficient manner of Richard and his team. Since then I have used them in a number of different locations and would highly recommend them to anyone looking at a heli transfer.
Tom C
I have used Whitetracks Helicopters year on year for ski transfers. I know I can completely rely upon them to respond quickly, adapt to last minute changes and to always keep me up to date with local weather etc. Excellent and very attentive service all round! Wouldn't use anyone else!
Pauline F
A couple of calls to the team at Whitetracks and arrangements were in place to collect us from a 'long' lunch at a favourite ski restaurant (La Bouitte, St Marcel de Bellville) and safely ferry us back to Courchevel.

We received a fantastic and trouble-free service and an experience certainly to be enjoyed at least once in your life - we certainly hope to use Whitetracks again
Martin W
I have always found Richard and the team at Whitetracks to offer a fantastic service. I have used them for several seasons and each time they cannot be faulted. Richard is extremely knowledgeable on different routes and airports and I often recommend their service. The quality of helicopters and pilots are second to none.
Nick D
Hi Richard

The helicopter trip was a fantastic experience for us all!

Thanks for arranging

Regards
Paul M
Richard

Many thanks - it was a first class service disappointing about the weather but that's something that can't be helped
Steve P
Hi Richard

Thanks for your help yesterday Annecy is the way to go.

The pilot was great and the driver also I will be using you again next year and recommending Whitetracks to my friends also.
Adam C A
Thank you for an excellent trip and service...will reach out to you again
Jon F
Fantastic service today at GVA. We were met at the plane door and whisked through everything.
Thanks again!
Transfer was great. Sitting in the sun up the mountain.
Michael S
Great job, good flight, excellent service.

Many thanks Richard.
Richard - thanks again for your efforts, was a great service on Friday and we will look to try again on future trips, so thank you for your help,
Ben C
Richard

Will certainly be using whitetracks again and recommending to all. Fantastic experience and service. Thank you again
Marcus J O'B
It was a fantastic flight - absolutely wonderful. And she said yes! Thanks for all you help organising.
Will
Dear Richard,

Finally back in the office and just wanted to write again to thank you so much for sorting out the helicopter for us - it was such a great finale to the press trip and all the journalists really enjoyed it. Once again, I'm so sorry for the confusion with the booking - I will definitely keep an eye on the goings on with my phone in the future.

Thanks so much again Richard - we hugely appreciated you organising this for us.

Kind Regards
Kirsty
Super thanks 1,29 minutes from we left the plane

Hilsen / Best regards
Kenneth H
You will definitely be hearing from us again

First class service
Iain G
Hi Richard

Just to say thanks, we all really enjoyed it.

Regards
Jonathan C
Dear Richard

I wanted to kindly thank you for your proffesional assistance you gave us the last weekend.

It was a great experience not only for our passangers, but aswell for me!

Have a great day!

Best regards,
Michaela R - Travel Consultant
Hi Richard

I have just arrived in roanne, all went well, thank you for the excellent service.

Best regards
Tim B
Dear Richard

Just a quick note to say many thanks for organising the sightseeing helicopter flight for us. We had to change the day so many times due to the weather but in the end we had a fantastic sunny day. You must have been so fed up with my emails and txts!!!

It was a great experience for both of us. Thank you again for all your efforts.

Best regards
Bita and Peter
Hi Richard - all good. Nice weather. Early arrival of the heli.

Charming and helpful pilot. Safe arrival.

Everything one could wish for really.

Thank you,
Gary W
Richard

Just wanted to drop you a line to say thanks for your assistance with my recent trip.

Best Regards,
Antony H
Dear Richard,

Many thanks for the helicopter arrangements - all went very smoothly and was a great start to our holiday.

Kind Regards,
Colette R
Thank you, everything went great.
Kind Regards,
Ibrahim S
Hey mate

The helicopter was a success. Was awesome experience.

In fact the rest of the gang are coming home this Saturday (2nd Feb) and are interested in getting the Chopper back to Geneva (from Meribel)

They are flying with Easy Jet departing 12:55 hrs so need to get to the airport around 11:00 hrs.

Let me know price/ availability please mate.

Regards
John W
Hello Richard

Just a quick note to say a big THANK YOU. We have just returned from a fabulous holiday, and the helicopter ride from Les Arcs to Chambery made it perfect. Mike and Jacques were very nice and made us feel very welcome.
Mark F
| | | |
| --- | --- | --- |
| | | |
| | |
| --- | --- |
| | |
| | |
| --- | --- |
| | |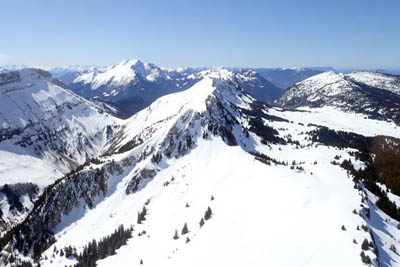 Hi Richard,

Here follows a brief, picky and hopefully informative critique.

Dealing with the flight arrangements:

Initial booking was very clear and easy. The vital communication with you on arrival at Geneva (due to the inclement weather) was excellent. It was a shame that the taxi driver was not waiting for us at the rendezvous point, but this was resolved in 5 or 10 minutes.

Taxi trips
The taxi for the outbound leg was good, but for the inbound leg we had a luxury Mercedes limo with Club seating, bottled water and sweets. This was exceptional. However, the driver missed the turn-off to the airport and for 20 mins we drove around in circles before arriving back at the helipad! From there it was 8/10 mins to the airport. The driver helped us with our luggage.

Annecy - Val
Older rather tatty aircraft, shitty weather, but a good flight. Don't remember flying time.

Val - Helipad
Brand new machine (much better). Great weather. Flying time 33 minutes.

Both pilots were friendly.

Overall I plucked Whitetracks off the internet. I had no recommendations and was nervous about how you would perform. Indeed, I was nervous that it was not all a scam!

Our experience was superb. I don't know the relative costs to you of each leg, but there was a very clear difference in quality between them. Had leg two been the same as leg one, we would have simply assumed that that was the standard!

Kind regards
Malcolm S
Hi Richard,
Just a quick note to say thank you very much for taking care of us so well. The transfers were a great success and we hope to do it again next season.
All my best,
Justin D
Whitetracks Helicopters provided a fast, efficient and very friendly service that enabled us to avoid having the riders do a 6 hour transfer by road the night before the crucial final time trial of the Tour de France 2012. The whitetracks service enabled us to find the small performance advantage that we seek in all that we do and we would highly recommend them.
Fran Millar, Head of Business Operations, Team Sky
Dear Richard
I still cannot believe the wonderful technique with which you managed to ferry our 43 VVIP guests in 7 different helicopters from Geneva airport to Courchevel with absolute perfection. It was so simple a walk-through for our guests to the helicopters after a long night journey. The classic way you queued up all 7 helicopters at the Geneva airport was commendable. The time it took for all the helicopters to board and fly up with all passengers was perhaps, the shortest ever I have experienced.

We are soon looking for another trip to be organised in similar way with more numbers of people to join. I expect your service there again.
M.K.D.Nair, New Delhi
Thanks very much for being available so quickly. Both the BBC and ITN have used the pictures that were taken on the flight.
Kathy A, BBC World Newsgathering
Richard was able and amiable during the whole process as we reserved our flight, and was capable of handling our many requests. It was a great pleasure to work with him. The flight itself went off with no problems and our clients arrived to their destination in expedient comfort.
Justin W, Pro Series Manager
Thanks for all your help/assistance to BBC News
Paul V, BBC World Newsgathering
I found Whitetracks Helicopters to be both professional and efficient. One phone call was all it took to arrange a Verbier to Geneva transfer. I would not hesitate to recommend them, and will use them again myself when circumstances allow.
Adam B
I just wanted to say thank you for arranging the flight for us. I was very impressed with the service that I received throughout. The flight itself was amazing - not to mention the absolutely breath-taking scenery. It is definitely a flight that we will all remember. Thanks once again.
Atuksha P
I found booking my transfer from Chambery to Les Arcs using Whitetracks very easy. Upon arrival in Chambery I was contacted promptly to confirm that flying conditions were suitable. The ground agent processed us efficiently to the helipad. Our children truly enjoyed the helicopter transfer, their grumpiness of having to get up early for our flight instantly forgotten. Weather conditions were not favourable enough to transfer back to Chambery, but Geneva looked suitable. Our Whitetracks contact kept us informed and our transfer went without a glitch. The handling agent in GVA proved super-efficient to get our luggage checked in and us through security. I would use Whitetracks again in the future as it took all the hassle of a bus transfer away, it gives you a class A view of the Alps and our kids truly enjoyed flying by helicopter.
Boris N
As it was a birthday present and involved the whole family, I asked for their words to describe a journey via Whitetracks Helicopters around Mont Blanc. A trip which, at the time, left them all rather speechless. So here are the words they say best describes our trip: "Breathtaking. " "Educational. " "Out of this world. " A once-in-a-lifetime experience which left us feeling rather small against the size and scale of the Vallee Blanche!
Carolyn R
Just having a weekend free to ski, we needed to get up to Verbier as quickly as possible. When we landed at Geneva we were met at the door of the plane and escorted straight to the waiting helicopter. We quickly got to the bottom of the Verbier ski lifts and saved over two hours. I'd definitely use Whitetracks Helicopters again.
Dan A
Thanks for sorting out our heli transfers (& the lovely upgraded heli for the return journey)
Daniel O'N
Fantastic trip to Val D'Isere on Wednesday with blue sky and sunshine all the way. Trip back today was good but we had some rain and cloud so not quite as enjoyable but what a way to get to a ski resort! Many thanks for all your help.
David P
"Whitetracks Are Worlds Apart! "
I have used the services of Whitetracks Helicopters many times in Europe using their services from Zurich to Zermatt and Naples to Capri, Whitetracks provide the latest Helicopters large enough to cater for my Wife and I, plus our four children. I highly recommend Whitetracks they arrange everything from Heliport transfer to the hotel to luggage to pre flight weather and flight forecast, they provide a very slick service through airports and have first class Pilots who always provide information en-route. Whitetracks provide the finishing touch to both holiday and business trips, it really is a different world up there and Whitetracks are my first choice!
David P - Leeds
With an upcoming Ski holiday to La Tania in the half term, we wanted to avoid the traffic and inevitable delays and perhaps arrive in a bit of style. We contacted a couple of company's who could provide a helicopter transfer and opted for Whitetracks, initially based on cost. The transfer was seamless, from being met at the airport, taken through customs and shown to the helicopter, through to arriving at La Tania and being taxied to our chalet.
Forget the fantastic views, forget the beaming smile on the kids faces and even if you forget arriving at the resort with a crowd of people watching and admiring around the helipad being pretty cool, the difference from a two hour plus drive through traffic in favour of a 20 minute trip over the mountains was worth it on its own.
We've tried a number of other helicopter charters and transfers but based on price and customer service, I'd opt for Whitetracks Helicopters every time.
David Y
I have used the services of Whitetracks Helicopters for a number of years now especially for some of my more "demanding" clients. They are a pleasure to work with and I feel safe in the knowledge that whether my clients are transferring from a private jet or travelling on commercial flights they make the whole process seamless, allowing me total peace of mind.
Emma B
I particularly like Whitetracks' promptness and flexibility. It's been smooth running each time they've helped me and I'm happy to commend them. Whitetracks are service-minded, responsive and efficient. I like flying with them.
Gary W
We have chosen Whitetracks Helicopters several times because they care about what's important to us when we travel:
Quick respond
Excellent service and organizing of the trip to every detail
Very reliable regarding payment
Nice, helpful and polite pilots/drivers (when we have to go by car due to bad weather)
Safety comes first
The helicopters seem very well taken care of and are always clean
Good website, information and prices
We are happy to recommend Whitetracks Helicopters because we know we are in good hands and that everything is taken care of in best possible way!
The Bergheim & Klev family from Oslo
Richard just wanted to say thanks for everything, the trip was incredible. I will be in touch in the future!
Jason W
We had a great time. Such amazing weather and worth the wait. The boys loved their present and we enjoyed joining them though we were both a little scared at various stages. Thank you again for all your help to organise. All the best
Jennifer A
My kids are already asking when we take a chopper again.....
Boris N
Our transfer with Whitetracks Helicopters from Chambery to Courchevel 1850 proved easy to arrange and was really quite spectacular. We absolutely loved it - thank you.
Julie P
The whole day was a success! We both loved it. The helicopter ride was a success and the meal marvellous. Please thank everyone involved.
Marc S
Everything went perfectly and it was a great experience, thanks for your help.
Dan A
Knowing that my family is flying with Whitetracks Helicopters is a guarantee for peace of mind.
M.M - Brazil
I have used Whitetracks Helicopters' services several times and haven't been disappointed so far. They are indeed a trustworthy, reliable company. Their service is available 24/7 and they are always ready to provide service for even last minute inquiries. I find their prices being reasonable and their representatives are ready to negotiate. Overall, this is a great company that provides best service possible in helicopter rental field. I would recommend Whitetracks to everyone!
Marina K, PA
Just a quick email to thank you very much for organising our transfer to/from Zurich/Zurs. It all went fantastically smoothly and we were so lucky with the weather. We are still considering the April transfer to Belle Plagne (or the nearest landing site) and will come back to you in due course.
Michael B
Many thanks Richard, I understand that all went well with the flight and that the passengers thoroughly enjoyed the views. Till next time, all the best.
Mike P
Super, thanks a lot, Richard!
Natalia C
Whitetracks Helicopters have provided an efficient and professional service for us over a number of different corporate travel programmes. Always quick to respond to any enquiry, the service from end-to-end has always been of an exceptional standard. We look forward to working with them to create successful future projects.
Natasha S
| | | |
| --- | --- | --- |
| | | |
I contacted Whitetracks helicopters as a one way airport transfer for 4 of us for our ski trip to Val Thorens at the end of March, initially I was sceptical if the transfer would be worth the time and money as it was quite a bit over our budget. But wanting to organize a surprise for the group and get the holiday off to a bang and hopefully get some extra ski/snowboarding in, I took the bold decision to make the booking after only checking one other member of the party the night before. Our plane flight was a little late coming and they lost our gear but after we got transferred to the helicopter guys they whisked us like VIP's back through security into a minivan down the runway to the helicopter. The chopper flight was excellent, the views superb the pilot was great fun to. We arrived in resort 25 minutes later and were told by the local rep the transfer bus was still at the airport waiting for everyone to get on. 1 hour later and after some hastily rented gear courtesy of the travel company for losing our bags we were on the slopes and enjoyed and an extra half day made only more fun by arriving back at the hotel to see the transfer bus pull up due to being delayed by traffic. Totally worth doing it and would recommend to anyone especially not having been in a helicopter before, thanks to Richard and Whitetracks Helicopters for sorting it all out at short notice and would defo use them to do it again.
Paul S
At Elysian, we run only the top chalets in Zermatt, with the highest end clientele. Our philosophy is based on an entirely hassle free holiday - nothing is too much trouble, everything is possible.
Considering this, the fluidity of the transfer is of utmost importance - the first and last experience of a guest stay.
Understandably I am very careful with whom we work for any outside service, and it does take time to build the trust.
I have now worked with Whitetracks helicopters for (many years) three years (known of Whitetracks for 6 years) and feel confident that the service matches both mine and our guests' requirements and expectations. Quality of helicopter, timing and communication are key - as well as the smooth organization of an alternative method should a helicopter not be able to fly due to bad weather. I feel that Whitetracks put great individual care and consideration into each flight they organise, which is invaluable to us - you do not get this so much with many larger companies. I also know of some high end agents who have been delighted with the service offered by Whitetracks and ask only to use them again.
Speaking from my own experience with Whitetracks so far, I am confident to recommend the company, and have not heard of any bad experiences. Of course these can happen - but Whitetracks have never let me down, and I feel I can relax knowing they are fully taking care of each aspect of the booking.
Philippa Short, Elysian Collection
Just wanted to say thank you for such a professional and flexible service last week. Both trips went like clock-work and we felt like royalty!
I was very pleased to see the bus collect us from the other side of Geneva airport, which saved running across the main runway! From leaving Les Gets to checking in to easyjet, took 35 minutes! Amazing...
We are looking to buy a chalet in Courchevel this Spring, so we will keep in touch..Thanks again. All the best
Rob
"Brilliant. Thank you."
Rupert
"Rupert wanted me to send you a quick message to thank you for arranging everything. The guys had a really good trip and everything ran smoothly."
Oli
Fasttrack to the Alps:
A very fast and convenient way to reach your wintersport destination is flying into Chambery and continue your trip with a helicopter to your skiing resort. I used the services of Whitetracks Helicopters several times to and from Val Thorens and Courchevel. Apart from being convenient and fast it is quite adventurous as well. My children love those flights, it's an exciting start and finish of your vacation. A Whitetracks representative picks you up at the luggage check out and takes you to the Helicopter check in. The flight takes you over snowy mountains with spectacular views. Half an hour later the hotel shuttle picks you up at the helipad to take you to your hotel.
Pictures/video will follow.
Best
Erik VDM
"Thank you for your help everyone had an amazing time in the helicopters."
Vanessa P
Jav S
Shilpi C
Charlotte R
Shannon T
Fiona McL
Andrea P
Daisy D
Darren D
Martin N
Kevin R
ITC L
James T
Gordy C
Heidi F
Jane S
Jiri M
Whitetracks Helicopters Flight - March 2016 Geneva to Val Thorens (return)
We booked our ski holiday for March 2016 and was contemplating a long three-hour transfer by car, however we decided to treat ourselves and opted to have a helicopter transfer to our resort of Val Thorens.
WOW! So much better than we expected!!
The service received prior to our trip from Richard at Whitetracks Helicopters was superb, great communication, constantly updated us and gave all the information we needed. Upon arrival in Geneva, as Richard promised a driver was waiting for us to whisk us away to the heliport 20 minutes away where we were met by the flight team. All our luggage and ski's were loaded into and onto the side of the helicopter and then our pilot greeted us, helped us aboard and gave us a safety briefing.
The flight was simply beautiful, great views on leaving the heliport and then as we climbed, we went up through the clouds and once out of the clouds I can only describe the view as breath-taking and one of the most beautiful views I've seen. The mountains covered in snow, the sun shining and very smooth flying. Our cameras went into overdrive!! Our pilot was superb, very professional, safe and kept us updated throughout the flight with timings, our height and pointing out many places of interest.
After 25 minutes we came into land at Val Thorens feeling like celebrities as the skiers on the slopes stopped to watch us land taking their own pictures and videos of us!! Our pilot helped us with our luggage to the awaiting hotel car and wished us a great before having some photos with is by the helicopter.
The return was the same and just as professional, the only problem was, we were heading home to the UK!!!
I would certainly recommend Whitetracks Helicopters to anyone who wants to travel in style, cut out long boring car journeys and get the best views of the mountains. Richard who arranged our flights, the drivers, the ground staff and the pilots were all superb, professional, dedicated and very friendly. The helicopters were very clean and comfortable, and I would like to thank you to all those who made our ski trip extra special and look forward to next year.
Richard H
Simon M